Oak Pointe Box Newels are all handcrafted for exceptional quality.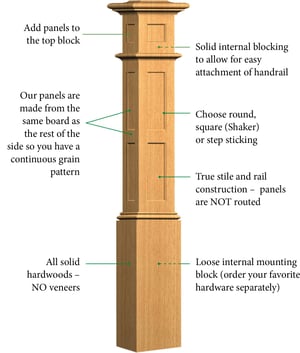 ALL OAK POINTE BOX NEWELS FEATURE:

Solid hardwoods, NO veneers
Solid internal blocking, allows for ease of installation of your handrail
Loose internal mounting block (order your preferred hardware separately)
Oak Pointe utilizes Locking "S" Mitered Joints on all box newels.
Locking "S" Mitered Joints are joints formed by fitting two pieces of wood together at a specified angle (45°). An "S" shaped beveled groove within the joint secures its connection.
Joints provide a variety of benefits:
Reinforced construction
No exposed joint
Smooth, clean finish
Cross Section of Plain or Milled Box Newels
Cross Section of Box Newels with Panels

Continuous grain — panels are made from the same board as the rest of the side
Ability to add a panel(s) to the top block
True stile and rail construction – panels are NOT Routed