Like many cities, there are some very contemporary homes being built in urban settings that want to capitalize on their spectacular views of the city skyline, using lots of windows, decks, and balconies.
This recently completed home in downtown Cleveland is a perfect example of one such project. Along with his homeowner/builder, our dealer approached Oak Pointe for solutions for the exterior decks and balconies.
Homeowners Goal:
The homeowner wanted low maintenance, a product that fit the architectural design of the home and had little obstruction of their beautiful view of the Cleveland Flats and downtown skyline.
Exterior:
The industry standard for stainless steel interior use is 304. 316 grade (marine grade) stainless steel contains molybdenum, which makes the material more resistant to corrosion. While stainless steel is low maintenance, it is not entirely maintenance free. Maintenance is required depending on how harsh the environment is (seacoast vs. inland), 316 always provides better protection for outdoor use.
The Square Series from our Modern Metal Collection with square newels, handrail and flat bars in 316 stainless steel met all of the requirements and aesthetically was a perfect design element with the rest of the house!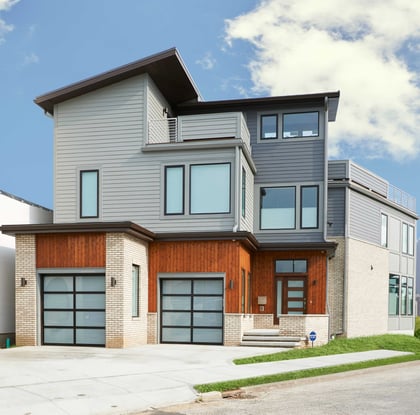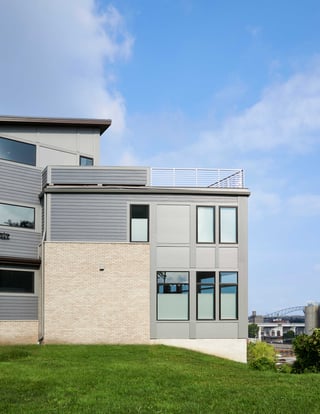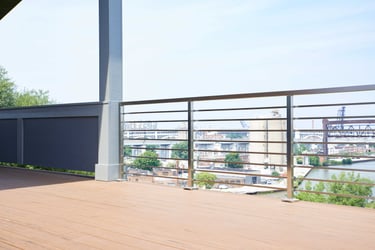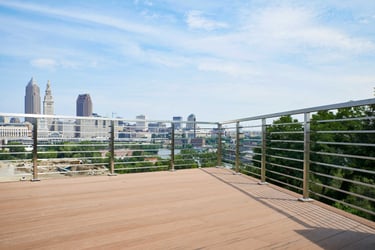 Interior:
The homeowner wanted to use wood but pull in the stainless steel from the outdoor railing systems. Wood handrail and plain wood newels were specified along with ½" hollow 304 Stainless Steel tubes (also available in powder coated black, in ½" and 5/8" Stainless Steel and powder coated black and in ½" solid stainless steel). Oak Pointe suggested a change in the newels, recommending our Malta Series with a stainless steel band near the top.
This design element is perfect when using other stainless steel products. The homeowners are thrill with the interior railing, which includes several of the Malta newels.