To get the best finish on your Oak Pointe products, prepping is just as important as the finish itself. Many OP customers rave about the quality of our sanding, even stating that our products are delivered ready to install and finish. This is only partially correct. While we pride ourselves on the quality of craftsmanship we provide to every customer, all Oak Pointe products should receive a light sanding before the final finish is applied.
Why Does Sanding Matter?
A light sanding of ALL wood components is crucial to remove handling marks such as oils from human hands touching the products. If your parts sit in storage before installation, weather conditions such as humidity can also affect the wood.
4 Tips and Reminders for Prepping
Even for a light sanding, it is essential to ventilate the area before you begin. Protective glasses, gloves, and a respirator are recommended to prevent injury.
Fine grits, such as #220, are frequently used for a final light sanding just before applying stain to the wood (grit varies based on wood species).
If sanding balusters and handrail, cutting strips of sandpaper to wrap around the components to move back and forth by hand can be an efficient way to maximize your time spent sanding.
**Do not use a mechanical sander.
Once sanding is completed, make sure all dust is removed to ensure a smooth finish by wiping with a tack cloth.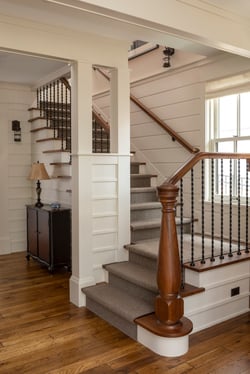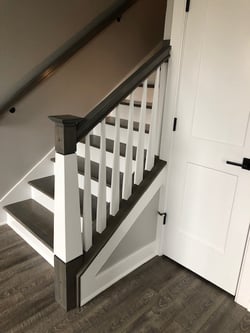 Download the OP 3.0 Catalog today to see our full line of products!
Or visit our website for additional resources.