Based on feedback that we have received from you, our customers, Oak Pointe released the Modern Metal Made Easy Pricing Comparison Digital Brochure
.
Understanding pricing can be complicated. As we implement new tools to help with quoting, such as our newly-released Modern Metal and Linear Metal Panel
Checklists, we know that it's helpful for our customers to see pricing examples.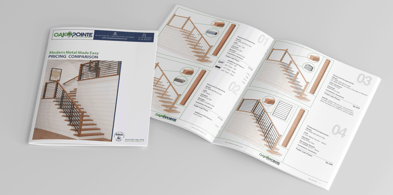 We created the Modern Metal Made Easy Pricing Comparison to ensure our customers understand the price points for various metal balustrade configurations. Components used in the configurations include Wood newels and handrail (priced in White
Oak to provide mid-level pricing), Stainless Steel newels and handrail, along with multiple infill options such as round bars/tubes, flat bars, cable, glass panel components, and linear metal panels.
---
Document Details:
Total List Price: The pricing listed for each balustrade configuration is the Total List Price. To get your cost, multiply the Total List Price by your Multiplier. As with the rest of our product line, List Prices are formulated to provide the ability to discount the prices and still allow the desired gross margin.
Configuration Description: Total List Price is for a balustrade of a ten-rise stair with a four-foot balcony. Rake rail and balcony rail heights are figured at 36" and 38" respectively, with a rise of 7-1/2" and a run of 10".